just a few BioGRAPHICAL NoTES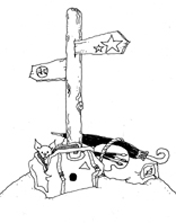 My name is ARLENE MARGUERITE GRASTON. I started this human dream in Reims, France (where Champagne comes from) and was told I had a "dual nationality."  My sense of self began before what we call birth, so I entered this adventure as a conscious Soul who learned to "play" at being a Human.   A dual nationality or any nationality at all, doesn't quite explain how I see the thing.  I know only One Reality, One World. One Life.  I remember the very first time I heard someone call a tree,"his tree."  As if a Tree doesn't belong to itself!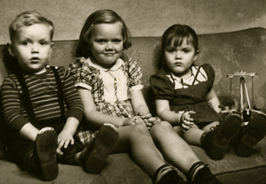 Danny, me, and Evelyn, when we were the children…we still are…for the Heart never becomes something else.
I'm an auto-didact, (a word that sounds like a disease but means one who is self-taught).  Naturally, I didn't go to art school.  Nor did I formally learn many school things after reading and writing. I realize this approach is not for everyone, but it was the only way for me.  I've never felt any loss, to the contrary, I've remained close to my interior world–the Place were all knowledge comes from.  Still, I have learned about this thing called time and space and I know how to break things down in a neat and polite linear way. Consequently, I've become an efficient Human Being in spite of my spiritual awareness.  It is quite a mistaken notion that people with the sensitivity of Insight cannot be practical and get things done.
Before coming to the States I apprenticed with the haute couture house of NINA RICCI because for a while I toyed with the idea of designing clothes. Hmmm. 
Imagine! Me, a
fashion designer!!
Anyway, when I came to America I fell in love with New York and made it my home. From here, I continued working with Paris to create a lingerie line and a gold and diamond collection and perfume ads.
Soon I found myself busy with my own graphics design studio creating projects for major corporations as well as businesses in the arts. I wrote copy, designed logos and catalogues,
and produced ads and fashion illustrations that appeared in publications including VOGUE, HARPER'S BAZAAR, WWD, and THE NEW YORK TIMES.  It was fun.
For the theatre, I designed the posters for the original Broadway productions of BUBBLING BROWN SUGAR and EUBIE! among others.  I tell you, I got worldly!
During my interior decorating phase, my trompe-l'oeil murals decorated apartments from Fifth Avenue to Long Island (it was a long time ago and they may well be painted over by a new decorator by now!). My corporate clients included American Cyanamid, Pierre Cardin, Union Carbide, Kayser-Roth, Time-Life Books, The National Energy Foundation and The New York Public Library. I think I can say I tried my hand at everything that intrigued me.  But what I really learned about, was how people view Life!  Wow. Explains a lot.
Without music, this world would be a much bumpier ride. New York meant Tin Pan Alley to me. Honest. I actually thought I'd find it when I got here!  (Alas.)  American Jazz.  The "Songbook."  Of course I love the classics, but it is Jazz, that beautiful, blood-warming daring of improvisation, that makes me feel all is right with the world. This uniquely American sound found a perfect marriage with the genius of: Gershwin, Porter, Arlen, Mercer, Jule Styne, and Jerome Kern, etc., etc., etc., (and when sung by Ella and played by Louis Armstrong or Art Tatum, well folks, you can scoop me up with a spoon).
You can see why my favorite account would be the Rodgers & Hammerstein Theatre Library where I met my darling husband and best friend, Charles Mathes, who is at present the director of a New York City art gall
ery and the author of many mysteries and art books.
Thank you, Gentleman, for being our Cupid
I had my first taste of publishing, when a television show I wrote for "Lamp Unto My Feet" was so well received that CBS rebroadcast it in an expanded version as part of their Christmas Eve programming. It was narrated by that elegant lady and actress, Beatrice Straight. The project became a Bantam children's book, SPECIAL FRIENDS
A few years later,
Doubleday published my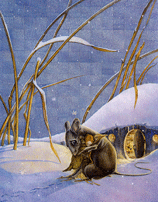 THUMBELINA
Our award-winning, IN EVERY MOON THERE IS A FACE, is the one Charlie and I created together and waited a long time to bring out. Despite the "experts" we knew this book had to remain genuinely simple and not be turned into something meaninglessly commercial. It is a different kind of book: it shows rather than tells. This is what matters to me in doing my work.  Viewing art requires the participation and imagination of the reader for its treasures to be revealed.  It is the ultimate sharing and confirms the Oneness of Reality. I laughingly call IN EVERY MOON a "spiritual activity book."
So, we were willing that it never be published. The world needs works of purity even if many people do not understand them. There are those who call our book a work of fiction. We know better.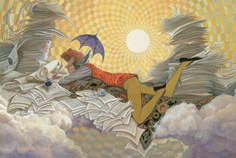 Charlie wrote the circular poem that gives rise to the story that the images unfold. It is a deep story full of joy and beauty.  Children have said that they are not afraid of turning its pages or reading it before bedtime.  Oh, why have we created a world where what is dark and scary is considered dealing with reality?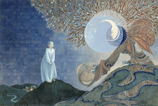 Our imagination is created only for joyful living.
************************************************
…and now, this is me and my Charlie (and our sunglasses.)
No one ever told me
marriage could
be fun!!!
So, all is well with us. I am writing more than ever and have created a this new website to tell my tales about that inner reality. And the artwork is going well too. I wonder what's next. We might move to the country…but, maybe not. Once NYC gets into your blood…
Thank you for spending time with me.  But before you go…
*******************************************************************
…here is a magical video made by extraordinary Ukrainian children.  It turns out that these young people were very surprised to find that in New York, America, was an artist who created the kind of work I do.  Russian, is the language of fairy tales, after all … so it follows that the magic and wonder I believe in would be felt by people of that tradition.  The video is in Russian but the charm, talent, and open-heartedness, is Universal.  I am deeply touched by this gift, and so is Charlie. The video is about the two of us and the transcendent joy we put into our work. You will find it enchanting even if you do not speak the language.  And most assuredly, you will be made hopeful by the presence and power of genuine Innocence and pure creativity.
***********
(The video is below this brief introduction taken from Natalya's translation with some of the spellings delightfully unchanged):
The mole and the mouse meet and talk.– Today we must shed light (!) on the problem: who is Arlene Graston and who is Charlie Mathes?– Don't you know who is Arlene Graston? Maybe. Arlene Graston is Thumbelina.
– No! She is a painter and she lives in New-York!
– No, she is a tale-teller!
– No, she is a wrighter!
– No, she is a Fairy!!
Then they try to understand who is the strange man who often walks in the Magic Garden.  At a meeting of the elves, they say:  – He is the director of Manhattan gallery!
– No, he's a wrighter, he wrights wonderful books – full of adventures!
– No, he is an oddball who likes to ride on the cloud and to create poems! Then Thumbelina interrupts:
– We are sure both of them had а private conversation with the Moon!!!!
– I am sure, the Mole declares, that the Moon doesn't have any face.
– You as a businessman don't have romanticism! the Mouse exclaims.
– You are also a businessman, the Mole replies.
– Yes, I'm a businessman, but I am poetical because I'm a woman. And I am sure: the Moon can speak.
– Where are your proofs?
– Here they are!
So the Mouse proposes this new "video" filled with dialogues with the Moon and the small tales written by the school children.: