FROM OUT OF THIS WORLD
Why in the world is life considered such a mystery? Why is it not a trusted source of support and guidance, joyful to live? I hear so many puzzling things believed about it. I don't understand why. And, of course, I do understand why.
I've dedicated my writing and my art to answering that question. But I've dedicated my existence to not questioning it at all. My self awareness comes from this Thing thought so mysterious. I know its nature well.The only question I ask is, how do I balance  my unlimited Soul with my limited human? That's been the real mystery to me.
The only reality I can possibly perceive is the silent invisible very secret One. Two little words unify and describe it: I am the Self of Life. There is a Presence that gives breath to my human. A Heart that stirs my imagination. An ever present Now within Time and Forever. A most reassuring Feeling that emerges when I meet up with a paintbrush and an alphabet.
Self is my personal sense of place in the universal, my spiritual country. Self is my mind in Mind. My living mind, not a socialized machine stuffed with measurements but what is whole and free about me. Just this realization empowers me, makes me secure. I can envision a meaningful human world. I know the Infinite and I am invulnerable—I have no castle to defend. I am awake in a sleeping world.
I chose to come to this world to grow in a creative field of differentnesses. But I am not meant to bend to its conditions and surmount its challenges, I am meant to see through them. I don't want to scale mountains and outrun gazelles or wear a crown and epaulettes. I want to play with my spiritual nature's wonder. I want to be a Child expressing fresh ideas in a boxed-in time and space and help the Earth grow, too. My simplicity of Soul expands me and if I've succeeded in my dreams, only my Soul and I will know. But the world will be a better place.
What I do most earnestly ask for while I'm here, is wisdom. This is my one ambition. How do I stay true, no matter where, no matter what? That's all. I stay true by not miming a role in a choreographed farce. I stay true by trusting my deep feelings and keeping to their guidance. While there is nothing unfathomable about life or me, I see I possess a mysterious but brilliant genius: I've invented a magical planet to experiment in.
I am the Joy in being alive and I am imbued with the eternal memory of it. We all are. Truly. This remembrance forms my life's work. It makes me the person I am. It is my art. I love writing about it. I can't help but share what It says when I open to it—after all, it's everyone's Life. ●
__________________________________________________________________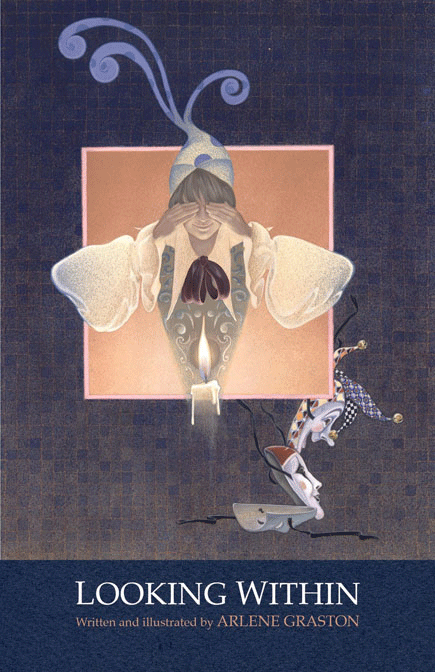 (To buy: click on cover or live link in blue)
****************
All of my books are available from Amazon.
All my artwork is available from my business website:
http://www.nyvisibles.com/
_________________________________________________________________



BE SURE TO CHECK OUT THE  MAGICAL VIDEO USING
MY ARTWORK MADE BY VERY TALENTED CHILDREN IN ODESSA, UKRAINE.  YOU'LL FIND IT AT THE BOTTOM
OF MY "ABOUT ME"" PAGE!   IT'S A TREASURE.
**********************************************************************
WHY DON'T I INVITE COMMENTS?  Well, it isn't because I don't want to hear from you.  I do hope my work will touch you — there is a kind of art, of poetry, that takes us out of the conditional world to our deepest self.  My creative work does this for me, I want to share it.
Wanting you to take time to consider what you find in yourself as you visit my site, is important to me because it is important to you.  Eventually, you may have thoughts to share with me, and my email address is in CONTACTS … but I can tell you this: the most truly important thing to find in this world is the Presence that breathes in silence within ourselves.  It is you who matters when spending time viewing art, not the artist.  Our life-giving imagination nurtures us through contemplation. WHAT we contemplate makes all the difference in the world; don't let this loud culture shut you out from yourself.