A human life is a diary. The diary of a Soul in slumber.
It may never be written down, turned into words and pondered, but the minute you find yourself in days and nights, bits of moments here, bits of moments there, you are living a story. You are writing a diary.
All that I write helps me with human life, which has remained, from the day of my birth, a thing most perplexing. Because I remember life before my parents conceived me, my diary is about the questions I ask of this experience that no one here can answer. And that is the point, all meaningful answers come from within the self. And nowhere else.
Everyone has countless questions. Questions are answers waiting to be found. Life is about questions being answered.
My diary writing can be found on my EVERWITHIN page.
_______________________________
"We are fools, we believe the words, not the reality the words are supposed to define." ― Martha Gellhorn
I am glad Martha said that because I so often find myself wishing I could write a book or make my website without using a single word. I have only one thing to tell and it isn't well-served by words. I live in a world of people stuck in words; bound by words. There is a place of clarity and immediacy quietly present within me that knows a freedom not experienced by my highly socialized mind. I have an Inner Being which is alive in a luminous Light held in an Infinite Mind. This is my eternal Home. I am my eternal Home. When I think in human terms, I lose it … and myself.
Society is not my home. It is a chalkboard I scribble on with borrowed notions. It is a place I constantly acquiesce to, and when I do, I feel I am betraying something sacred. When I engage (out of politeness) in its tribal rituals I feel I am pretending—I am meant to be engaging with the purpose of my Soul. My creativity, my art, reflects the world of my Inner Being. It is what I place in this website. I created a website to scribble something true of me by standing my Light out there to mirror the world I really come from.
Of course I use words, and they have been my the companions in my diary. This world, is full of contradictions. Isn't it?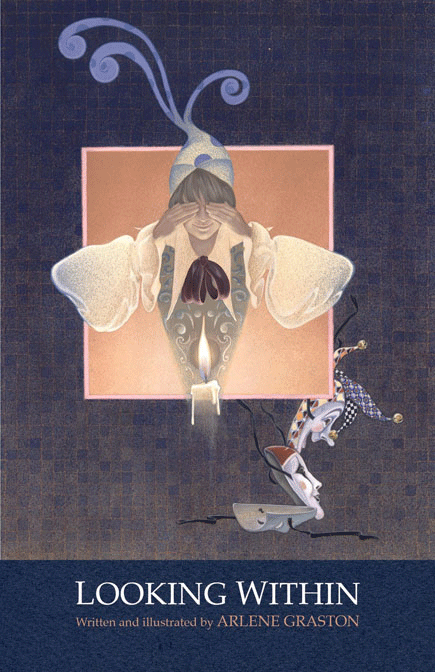 (To buy: click on cover or live link in blue)
****************
All of my books are available from Amazon.
All my artwork is available from my business website:
http://www.nyvisibles.com/
_________________________________________________________________



BE SURE TO CHECK OUT THE  MAGICAL VIDEO USING
MY ARTWORK MADE BY VERY TALENTED CHILDREN IN ODESSA, UKRAINE.  YOU'LL FIND IT AT THE BOTTOM
OF MY "ABOUT ME"" PAGE!   IT'S A TREASURE.
**********************************************************************
WHY DON'T I INVITE COMMENTS?  Well, it isn't because I don't want to hear from you.  I do hope my work will touch you — there is a kind of art, of poetry, that takes us out of the conditional world to our deepest self.  My creative work does this for me, I want to share it.
Wanting you to take time to consider what you find in yourself as you visit my site, is important to me because it is important to you.  Eventually, you may have thoughts to share with me, and my email address is in CONTACTS … but I can tell you this: the most truly important thing to find in this world is the Presence that breathes in silence within ourselves.  It is you who matters when spending time viewing art, not the artist.  Our life-giving imagination nurtures us through contemplation. WHAT we contemplate makes all the difference in the world; don't let this loud culture shut you out from yourself.